If you happen to be following our updates in real time, you'll have noticed a break in coverage. This is because there was a significant pause before Belgium came onto the stage.
Jérémie kicked off by talking about how he is a keen footballer and loves geology, apparently, strange bedfellows but he's unique.
Sadly, for an interview, Jérémie seems to be a man of few words – he thinks that everything is fine, and he wouldn't change anything. He's had a throat infection, but it now seems to have been sorted out. He thinks that he strained his vocal cords and now he is rested it is all good. Edge of your seat stuff, this, eh?
Football, music or geology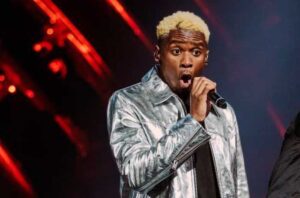 He has decided to prioritise the contest over his footballing – thankfully – but he has only paused his sporting self and will go back to it when Eurovision is over. That begged the question, what if he wins Eurovision? He said he's not chancing his luck by saying that, but if he does, then football gets the elbow.
Another thing on hold is his study of geology. He perked up a little when talking about his love of the natural world and how much he misses his studies. That might have to wait though until he's in his thirties.
Jérémie goes on to describe himself as "seriously curious" (Matron!) and insists (despite all evidence to the contrary from this interview) that he believes in finishing something once he has started it.
Compared to The Voice, Eurovision is a very different experience. The Voice involved singing with only four judges. Eurovision will put him in front of people in a huge arena. Wait until someone tells him about the viewers at home.
Making your mind up
For all this, he insists that music is music. And it doesn't matter where or how he performs it. For the Contest, he had a choice of two songs. The other was very different. he couldn't decide between them and asked the delegation to help. He plans on releasing
Music is Music, he said, it doesn't matter where he performs it. He had a choice of 2 songs, and the other song is completely different. He seems indecisive as he could not choose between the two so asked the delegation for assistance. He thinks that he is going to release the other song too.
Going back to his childhood, Michael Jackson was a massive influence on his musical career, however he thought he would never be like him (spoiler alert: he isn't),but he wanted to have the moments that Michael had with the adulation of the public.
Onto how Jérémie created the light and shade in the song. He said he has had help from friends and the studio and was not afraid to ask for help. There are a lot of cultures in Belgium and the song represents a changing of the guard – the old styles with the young movement.