Were you ready for the second bunch of Eurovision 2019 hopefuls? Tonight we got 18 songs, and they scored the remaining ten grand final slots.
I was on hand to walk you through the finer points of what happened on stage and you were welcome to join in with comments. We had such fun together on Tuesday, after all.
There were just three places left in the second half of the running order, and we'll be getting more about that later tonight.
May 16, 2019 7:45 pm
ENDED
Latest update 3 years ago
Winners' Press Conference
Thank you and goodnight ...
There will be a press conference in Tel Aviv, where the ten get to pick lots to say if they're in the first or second part of the show. After this, heads are scratched as the producers try to work out the running order for Saturday taking account of logistics and entertainment value.
You can expect something around midnight UK time (or it might even be tomorrow). We'll catch you up on Friday morning.
It's time. Obviously there's a bit of banter with Eurovision hard man Jon-Ola, who seems to be building his part, and now we're away ...
The ten through to Saturday night's big show are ...
North Macedonia 
Netherlands
Albania
Sweden
Russia
Azerbaijan
Denmark
Norway
Switzerland
Malta
So, that's another 9/10 from the smug Fannings.
Right, enjoy the silence from here. I'll pipe up again with the qualifying country list just to keep things tidy.
Our qualifiers are as follows:
Armenia
Switzerland 
Denmark
Sweden
Malta
Russia
Norway
Netherlands
North Macedonia
Azerbaijan
but I have to admit to being disappointed by songs I expected to love this evening.
It's time for interval acts a plenty, none of which I can bring myself to care about, but I'll be back to share the Fanning household prediction - can we equal our fluke 9/10 on Tuesday? 
Forget Luca, Russian-born Chingiz is my new love. I'm being given a ridiculously handsome muscle bear of a man husking his way through a camp old banger of a song that sounds to have been ripped from an old Pet Shop Boys album.
There are robot/laser effects a plenty - maybe too much - I grew tired long before they did, and I have to say that things run out of steam after a couple of minutes.
It's hard to make a three-minute song with two standout verses and an ethnic wail sound repetitive, but the Azeris have managed.
It's through, but it's not the winner.
For so many years, the Macedonians were famed for having borderline songs ruined by staging.
I'm not going to pretend 'Proud' is anything but a very average shout-by-numbers composition, but Tamara Todevska turns in a great performance, charisma poured from the screen.
I'll say it now though, that frock does her no favours and the mirrors showing her back seem pointless. Did Sergey go halves on props? 
It must qualify, surely?
When you knicked someone elses staging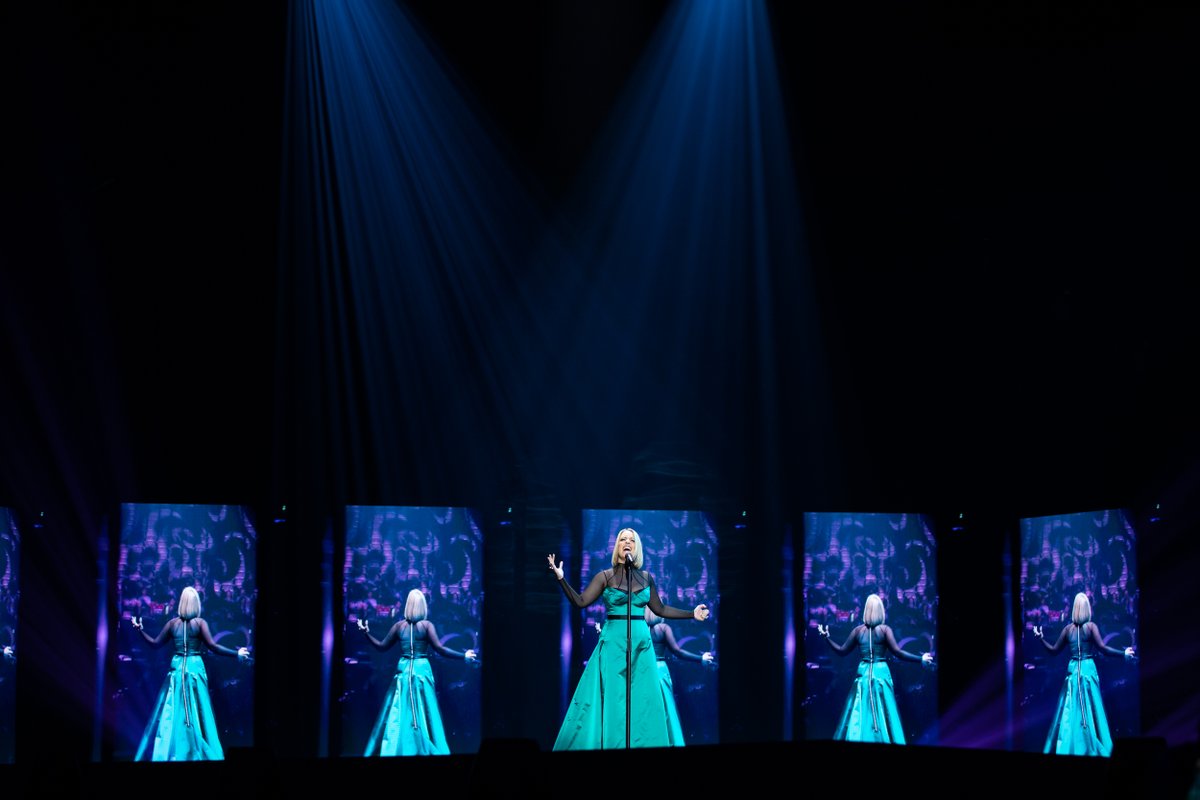 and pretend nothing has happened
The Dutch wanted it dark, and that's how it started. A lovely sweeping shot, picking out Duncan  in all the dark blue.
Plenty of well-timed smouldering at the camera, the long shots were perfectly timed to make the best of the backdrop, and then we zoomed out as the verse progressed.
The much discussed Belgian yo-yo light worked beautifully.
All in all, this was stunning and proved a true high point for me.
Load More
Image Credits: Thomas Hanses.