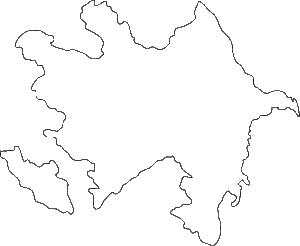 Do you ever wish for more ethnic songs in Eurovision? By ethnic I mean songs reflecting the traditional music of the country it represents. Or do you like music you're familiar with?
Our friends in Azerbaijan have often used songwriters from places further north and west. That might take away from the wonderful Azerbaijani music there is out there, in favour of something more familiar to western European tastes. It could be both a good and a bad thing to do so. Back in 2010, birthday girl Səfurə Əlizadə Əliyevə/Safura Alizadeh Aliyeva did her stuff for Azerbaijan in Oslo, and her song was written by Scandinavians. She managed a second place in her semi-final, behind Turkey. And then she finished fifth in the Grand Final. But one thing that bothered us was what happened to one of her backing dancers. Four appeared in the first rehearsals, only three made the televised shows. Maybe she was ill.
Safura is 31 today.
Ad günün mübarək, Safura!