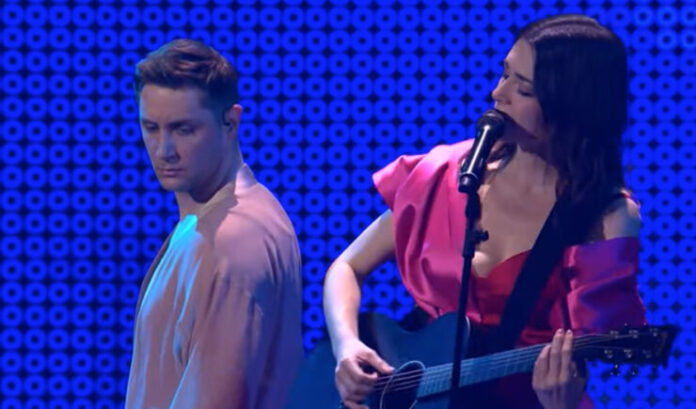 Back when Mia was picked to sing the Croatian Eurovision song this time around, I felt sure she had something special. A simple song, well performed with no bells or whistles. When it cropped up on playlists, it stood out. I was even prepared to go out on a limb and tip this for the top, awarding it the full twelve in my Countdown review.
That's a million miles from what I saw on the Turin stage today. It's like someone couldn't help but tinker. It shows every sign of being over-egged, over thought and past it's best before date.
There are three dancers clad in TK Maxx nightwear, plodding around, getting in the way, attempting intense stares in a trouple-gone-wrong skit. There are some terrible camera angles with the back of each dancer's head getting a fair share of coverage.
As for Mia, she starts with her guitar and ditches it to walk around like she was told to fill the floor rather than focus on delivering the song. As if to make sure she ruined any chance of making the final, there's a final chorus and outro in Croatian. I'm a fan of singing in native languages, but have never cared for half-and-half songs. If you want to sing in Croatian, sing in Croatian. It came across as messy and distracting.
A sow's ear fashioned from a silk purse and any hope of a decent placing killed stone dead.
I couldn't be more disappointed.