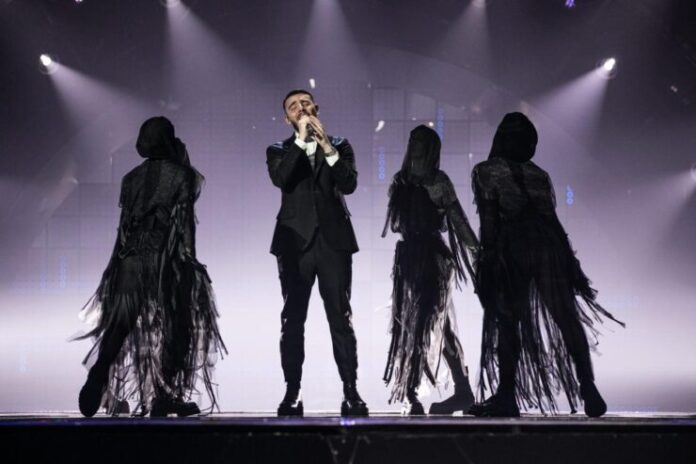 Ochman looks like someone that would knock on your door to sell insurance rather than someone that is going to sing a song of this magnitude. He's dressed in a black suit and crisp white shirt with a watch on – you hardly see that on a Eurovision stage these days. Either that, or Aaron Livesy from Emmerdale (no, YOU google it!)
This song is all about how Ochman performs it. This calls for long shots and wide angles from the camera crew because whilst he is emoting, often with his eyes shut, he's not connecting with the audience at home. Usually that would be a killer, but the way the song is shot means that looking at him is secondary to hearing him and that in itself makes the song unique.
If this was, say, Azerbaijan performing this, there would be lots of shots down the camera and connection, but that Ochman is honestly connecting with the song negates all of that. The nice touches from the camera of shaking and the lightning effect are properly powerful and even the dancers don't seem superfluous. That there is actually water on stage makes "River" even more real – plus water on the lens, which I didn't notice till the last take.
Believability
Someone at TVP has story boarded this song to within an inch of its life. Again, usually a bad thing, but not in this case. We know the story he is telling and they sell me that story. As you know with me, believability plays a big part. I believe Ochman, and I believe he is ripping his heart out.
You'll notice I've not mentioned the vocal till now, that's because it's perfect. Nothing here to worry about. This is qualifying and deserves its place at the top of the betting odds. Who knows, Poland might stage the contest in their own right!
We said that #Poland was going to need some good camera, and by golly they got them. Water drips on the lens, thunder effect on the long pan to the back of the hall, spooky lighting – he's still wearing the shit suit sadly, but this looks excellent on the telly! #Eurovision

— EurovisionApocalypse (@ESCApocalypse) May 6, 2022
Poland is my winner of the day so far. Ireland was also excellent.

— ESC Tom (@EurovisionTom) May 6, 2022
Poland is using a glitch-like shaking effects that makes you feel the song completely. Ochman's vocals are on point as usual. The rain sounds almost near the end of the performance also are well-thought-of. Can this be a potential winner? #Eurovision

— Musiable | News and blogs about Eurovision (@musiable) May 6, 2022
I am more and more convinced that Poland and Australia might not qualify this year. #Eurovision

— Eurovision with Kristina (@ESCAttitude) May 6, 2022