She is, apparently, the daughter of Europe – Amanda from Greece.
Amanda starts off with everything being "great" and she arrived Saturday night, and only one pizzeria was open so she ate there. – How exciting (!)
Asked to describe her performance in three words she said, blue, white and energetic.  That sounds typically Greek then, but the song is about a feeling of loss and a general feeling of "meh". Her current boyf loved the sound of the song, thankfully, as it was suggested it was about her ex! The song, she said is not about one particular person. It's a general love song, with general feelings. She wrote it after a break-up as part of an album cycling through a whole relationship from beginning to end.
Her favourite Greek Eurovision entries, after a little pause, were 'My Number One', 'Anixi' (without the saxophone clearly) and 'My secret combination'.
Processes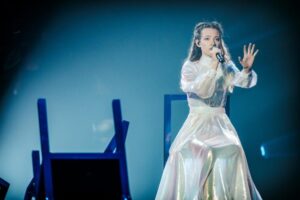 Her song has an a cappella bit at the front, and she explains that the silence in the beginning of the song is beautiful. they worried it might be too cold, and tried it with music, but it worked better with the vocoder. Amanda's process is usually coming up with ideas at random times in the shower or in the car, and she records some things on her phone and then going to the studio in order to bounce around her ideas with Bjorn, the additional songwriter.
The staging was discussed. She got on great with (director) Fokas Evangelinos from the minute they met – importantly he listens to her as she is very stubborn and likes to have control over the creative process. First she sang it how she wanted with her movements and he made something from that. There are chairs that melt in the performance, symbolising something that is about to end.
The video was shot on Symi, part of the Greek Dodecanese Islands. She says she won a musical contest to get studio time which kick-started her career. She also liked the fact that Maro said that she loved her song and, surprisingly, she loves Maro too! She's been listening to her music for years – maybe they could even work together.
The Norwegian question
Because she is originally Norwegian, she was asked her what it was like to sing against Norway. She was very discrete, and said that even though it is a competition, she's half Norwegian and would be happy if they won.
When quizzed on her inspirations, she mentioned Christine and The Queens, Whitney Houston, Angel from Belgium and a lot of Norwegian music. Greek-wise she grew up with traditional music – and pointed out how they have great lyrics.