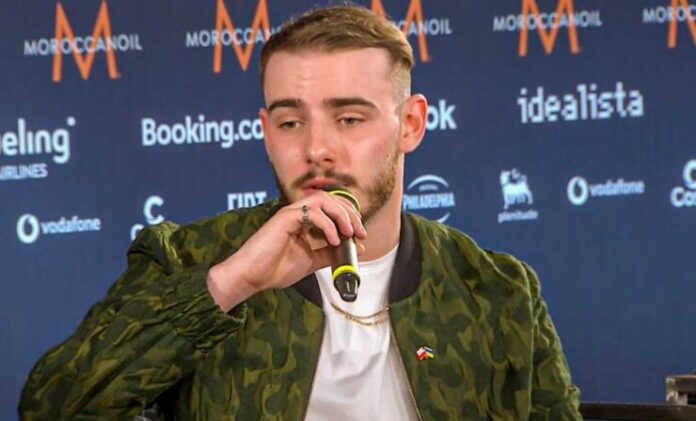 Ochman's press conference starts with the revelation that he played the Prince in Cinderella. Part of him wanted to be an actor, just musicals so he could be one of the Kids from Fame – in Polish of course.
Turning to his recent first rehearsal, Ochman had wanted everyone to feel what he was singing and keep the staging minimalistic with 'a special energy'. It's somewhat different to what he presented in Poland – mostly because he now has dancers on board. They represent demons – anxiety and depression – and his song is about being able to get through such negativity and take a breath from everything going on around you.
Demons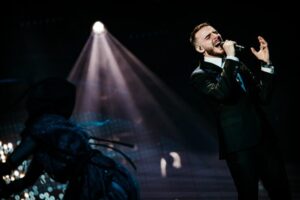 His demons, he insists, are no different to those plaguing everyone else. He's a perfectionist, wanting everything to be just right, but he also knows this isn't an achievable goal, so he settles for getting as close to that as he can.
He was asked about the pressure of being one of the favourites. He gave the typical modest 'I don't think about that' answer, adding in the equally standard bit about how everyone here is amazing, pointing out that it's just the first few days and most everyone is holding back.
Before he takes to the stage, the Polish star always takes time to warm up his vocal cords. He gets himself into 'the zone' two hours before any performance, warning up and focussing everything on what's to come.
Opera
There was a chat about his Italian grandfather – an opera singer. Ochman would love to walk on the stage at La Scala. His grandfather remains his mentor and has been around him all his life, and Ochman credits him with his love of music, thanks to the many trips to the opera. "He's like a second father to me, taking care of my voice and the whole path so I don't lose myself".
Post-Eurovision plans include an EP and his second album.